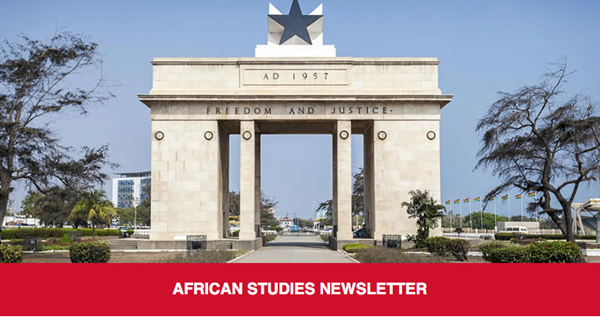 "Bottom-up Change in a Top-down Government: Changing Policy and Law in Ethiopia"
with
Logan Cochrane
Banting Fellow, Global and International Studies
Date: Wednesday, November 14, 2018 | 1:00pm to 2:30pm
Location: Discovery Centre, MacOdrum Library, Carleton University.
See more details here
In 2001 Africa was declared "a scar on the conscience of the world". When The Economist declared Africa a "Hopeless Continent" the writer observed that African societies were "for reasons buried in their cultures especially susceptible to brutality, despotism and corruption". A decade later, The Economist decided Africa was both Hopeful and Rising. Partly because shops were stacked with goods and China was on the continent. Now Africa Rising is being questioned. What do we really know about the continent?
Dr. Alex Awiti is the Interim Vice Provost, East Africa​ and the founding Director of the East African Institute (EAI) of Aga Khan University, Nairobi Kenya. Mr. Awiti holds a PhD in Ecosystems Ecology from University of Nairobi and is an alumnus of the prestigious Earth Institute post-doctoral fellowship at Columbia University in New York. He was a postdoctoral fellow at the Earth Institute at Columbia University in New York and was also an adjunct assistant professor at Columbia's School of International and Public Affairs. He worked under the mentorship of Jeffery D. Sachs, world-renowned professor of Sustainable Development and Health Policy and Management.
Date: Wednesday, November 23, 2018 | 1:00pm to 3:00pm
Location: Discovery Centre, MacOdrum Library, Carleton University.
See more details here

TRACES
Professors Erin Baines and Pilar Riaño-Alcalá (The University of British Columbia The Liu Institute for Global Issues and The Peter Wall Institute for Advanced Studies).
We speak of traces as the affective imprints of the missing on the social fabric; the sense/feeling disappearance generates; an imprint that is imperceptible but compels. Traces are haunting, hopeful, and coextensive: imbrications of the absent and present. What does it mean to write of, and with, traces? Pilar reflects on exhumations of the victims of a massacre, of lives mourned and relationships restored through the identification of bones and ceremonial protocols of burial. Erin reflects on the reappearance of persons who went missing during the war in northern Uganda, and the violent fragments that bond them to one another, and to persons they have never before seen or met. In this talk, we take a pause from international investigations, trials,
When: Thursday November 22, 2018 | 4:30 pm – 6:00 pm
Where: Room 2017 Dunton Tower, Carleton University
To Register and for further Information Email: bgins@carleton.ca
Call for Panels | Africa: Connections and Disruptions
Edinburgh, June 12-14 2019
The 8th European Conference on African Studies (ECAS 2019) invites the submission of panel proposals addressing the theme of Africa: Connections and Disruptions. We welcome panels and papers representing all disciplines and methodological approaches of the social Sciences and humanities. First priority shall be given to proposals explicitly concerned with the conference theme, but the scientific committee will also consider panels on other topics.
Africa has witnessed substantial continuities, and acute ruptures. The continent is home to processes that have prevailed for millennia, and other movements that are in a state of flux. Africa's connections and disruptions are both enduring and novel. Moreover, the relative weight attached to each element, and the perceived relationship between them varies greatly depending on the observer: from the colonial administrator, to the African farmer, to the entrepreneur, to the nurse, to the politician, to the preacher, to the civil servant, to the LGBTQ campaigner, to the aid worker.
Deadline for submission is 14 November 2018. All panels have to be proposed online via the link below. We do not accept proposals made via email! Please read the instructions carefully and then proceed to make your panel proposal.
All panel proposals must consist of:
a panel title
names and email addresses of the panel convenor(s)*
a short abstract of less than 300 characters
a long abstract of less than 250 words
Propose a panel here
All correspondences should be sent to: admin@ecasconference.org
Extractive Industries, Governance and Indigenous Rights: Spaces of Struggle and Social innovation
International Conference-Workshop
University of Ottawa, November 29 – 30, 2018
Fully engaged in national and international debates on the natural resource extraction industry, the Interdisciplinary Research Group on the Territories of Extractivism (GRITE) includes 12 researchers and more than 20 graduate students from various units in the University of Ottawa's Faculty of Social Sciences (International Development and Global Studies, Political Studies, Sociology, and Anthropology) and Faculty of Law (Civil Law and Common Law). The primary objective of GRITE is to stimulate the exchange of critical knowledge between various sectors on the many issues that the growth of the extractive industry raises, both in Canada and abroad.
The GRITE 29-30 November 2018 international conference-workshop has two key objectives: 1) an in-depth analysis of the nature of the socio-environmental conflicts and governance challenges that the extractive industry raises, and of the strategies and practices that impacted communities have developed to face them; and 2) the formulation of policy recommendations to address these conflicts. It will bring together world-renowned academic experts on indigenous rights in extractive contexts, governmental and civil society representatives, and Indigenous leaders.
When: Thursday November 29 – Friday November 30, 2018
Where: Room 4007, Social Sciences Building, 120 University Private
See more details here
Vacancy: Assistant Professor, Department of Sociology (Tenure Track) Arts, Sociology
The Department of Sociology invites applications for a tenure-stream appointment at the rank of Assistant Professor. The position will commence July 1, 2019 and is subject to final budgetary approval. The area of specialization is popular culture with an emphasis on Caribbean cultures. The successful candidate will have expertise in theories of popular culture and media representation, a rich analysis of popular culture through an equity lens, and a program of research focused on Caribbean cultural forms, current issues affecting Caribbean communities and popular cultures (both in the region and the diaspora), and a commitment to representation of the Caribbean in all its diversity and complexity. Preference will be given to candidates with a record of collaboration with Caribbean communities and organizations. The successful candidate will be able to apply research and scholarship on Caribbean cultural expression to their teaching in the area of popular culture, in order to teach in the Sociology Program and Liberal Studies courses at the undergraduate level.
Applicants are asked to submit their application online via the Faculty Recruitment Portal by November 30, 2018. The application must contain the following:
A letter of application and curriculum vitae
Three (3) recent research publications in accordance with suggestions in "Qualifications" paragraph above
Evidence of teaching skills, experience and achievement in accordance with suggestions in Qualifications paragraph above
Results of teaching evaluations (or equivalent evidence, such as a teaching dossier). The names of at least 3 individuals who may be contacted for reference letters, including one referee who can address the candidate's connections to Caribbean communities and organizations.
Confidential inquiries can be directed to the Department Hiring Committee Chair Alan Sears at asears@ryerson.ca
Any inquiries regarding accessing the Faculty Recruitment Portal can be sent to Ms. Davina Chan, Senior HR Consultant at davina.chan@ryerson.ca
See website for more information.