"Missing the Cues. Tales of a Newcomer's Life in Canada. A Memoir"
with
Professor Annette Isaac
Institute of African Studies, Carleton University
Date: Wednesday, October 31, 2018 | 1:00pm to 2:30pm
Location: Discovery Centre, MacOdrum Library, Carleton University.
See more details here
Call for Panels/Papers: Annual Conference of the Canadian Association of African Studies (CAAS)
University of Quebec, Montreal
May 16 – 19, 2019
Theme:  Reflecting on the World in Africa and Africa in the World: Originality and Innovative Practices.
From an open and multidisciplinary perspective, the 2019 CAAS conference invites reflection on the question of originality and innovation, in relation to Africa's relationship with the rest of the world. This call is for panel, paper, roundtable and poster proposals that question the Africa-World relationship by considering the concepts of originality and innovation. Invention, Originality, and Innovation have historically marked Africa's past and present relationship with the rest of the world, especially the Western world. They have served to divide the world into two big groups: those who "invented everything", and "those who never invented anything" (Césaire, 1947)
As always, the conference welcomes papers on all topics, but for those reflecting on the dynamics of invention and originality, we suggest the following axes to orient contributions in a multidisciplinary and global perspective:
1. The design and functioning of the paradigms of originality, invention, and creativity both inside and outside the continent.
2. The dynamics surpassing the original-copy dichotomy conveyed by the notion of originality: concepts of recycling, hybridity, transculturality, adaptation, decentering, mutation, migration, etc.
3. The particular cases illustrate the original or innovative nature of practices in specific disciplinary and/or cultural arenas.
Panel/Paper/Roundtable Proposal Submission
This year, CAAS is adopting tailor-made software to facilitate the organization of our annual conference and associational records. This transition is now underway: We therefore ask you to not submit your proposals before 5 November 2018. We will send instructions prior to that date on where and how to upload your proposals to our newly designed website. ​
Deadline for proposal submission:  December 1st, 2018.
Please submit your proposal to: Caasaceauqam2019@gmail.com
See website for more information.
Call for Papers: 27th Annual NAAAS & Affiliates National Conference
February 11-16, 2019
Dallas, Texas
Join scholars from across the globe. Submit your abstract and join in this scholarly conference.
Subjects may include, but are not limited to: literature, demographics, history, politics, economics, education, health care, fine arts, religion, social sciences, business and many other subjects. Abstracts, not to exceed two (2) pages, should be submitted that relate to any aspect of the African and African American, Hispanic and Latino, Native American, Indigenous Peoples or Asian experience.
Extra events scheduled for the conference:
National African American Drug Policy Coalition will schedule several select sessions;
The National Association of Black Story Tellers will provide a special performance;
National Latino Law Enforcement Association will host two sessions;
Black World Books will be attending as one of the major vendors;
Edwin Mellen Books will have a representative available throughout the conference to discuss publications;
Deadline for proposal submission:  November 10, 2018.
Send Abstracts to:
Lemuel Berry, Jr., Ph.D. Executive Director, NAAAS & Affiliates
PO Box 6670 Scarborough, ME 04070-6670
Telephone: 207/856-2500 Fax: 207/856-2800
Email: naaasconference@naaas.org
See more information here
Call for Papers: 19th Annual Africa Conference
Austin, Texas
March 29-31, 2019
Africa's intertwined historical trajectories signals at the imbricated nature of identities in the continent. At the same time, the politicization of different identities for the mobilization of diverse population groups adds another dimension to this complex terrain. The 2019 Africa Conference intends to critically examine the highly intricate and contested processes of identity formation and its significance for African societies. Furthermore, the conference will engage with discussions on identities that are intimately linked to notions of African diaspora across the Atlantic, the Mediterranean, and the Indian Ocean. The primary aim of the conference is to reflect on the varying and varied forms of social practices and processes through which identities are constructed, contested, negotiated, and reconfigured in relation to one another.
Call for Applications: AIMS-Carnegie Research Chairs in Data Science and its Applications at Quantum Leap Africa
AIMS Research is currently looking to recruit data science chairs: In partnership with the Carnegie Corporation of New York, the African Institute for Mathematical Sciences (AIMS) is offering promising emerging African data scientists of at least postdoctoral standing, attractive career opportunities at its pioneering Quantum Leap Africa (QLA) Research Centre in Rwanda. Two outstanding African data scientists in or from the diaspora will be given the opportunity to establish research teams of their own at QLA via the AIMS-Carnegie Research Chairs program in Data Science and its Applications.
The AIMS-Carnegie Research Chairs program in Data Science and its Applications has equally been designed to recognise outstanding talent and creative research approaches in data science with exceptional conditions. (i) With an award amount of at least one million USD each, the incumbents receive valuable starting capital to spend five years pursuing an innovative research project at QLA. This is without administrative constraints as they will be supported by an excellent administrative team which will allow them to focus on their research. (ii) The establishment of their own research team and possibility to initiate and implement a diverse number of research activities will enable the chairs to lay an important foundation for a promising academic career at a very early stage.
All correspondences should be sent to: qlachairs@nexteinstein.org
See website for more information.
Carnegie African Diaspora Fellowship Program (CADFP)
Accredited universities in Ghana, Kenya, Nigeria, South Africa, Tanzania and Uganda can submit a project request online to host a scholar.
Open to Project Requests from all disciplines.
Scholars must have been born in Africa, live in the United States or Canada and work in an accredited college or university in either of those two countries. To be placed on a roster of available candidates, scholars also need to hold a terminal degree in their field and can hold any academic rank.
See website for more information or email africandiaspora@iie.org with questions.
TRACES
Professors Erin Baines and Pilar Riaño-Alcalá (The University of British Columbia The Liu Institute for Global Issues and The Peter Wall Institute for Advanced Studies).
We speak of traces as the affective imprints of the missing on the social fabric; the sense/feeling disappearance generates; an imprint that is imperceptible but compels. Traces are haunting, hopeful, and coextensive: imbrications of the absent and present. What does it mean to write of, and with, traces? Pilar reflects on exhumations of the victims of a massacre, of lives mourned and relationships restored through the identification of bones and ceremonial protocols of burial. Erin reflects on the reappearance of persons who went missing during the war in northern Uganda, and the violent fragments that bond them to one another, and to persons they have never before seen or met. In this talk, we take a pause from international investigations, trials,
When: Thursday November 22, 2018 | 4:30 pm – 6:00 pm
Where: Room 2017 Dunton Tower, Carleton University
To Register and for further Information Email: bgins@carleton.ca

Call for Volunteers: Service Opportunities in Africa​
Does studying Africa also mean that you care about and want to help in Africa? If so, we need you! Want to volunteer abroad or work abroad? Great! NGOabroad provides affordable, customized  volunteer abroad programs and helps people enter or advance in working abroad in humanitarian work. Aiming to go into international development?  We offer key career services: career coach / career counselling; and resume builder and cover letter tips. Our international volunteer opportunities and international internships have more depth because they tackle the pressing challenges of our time. So our emphasis is skilled volunteering for student volunteers & professional volunteers. We also have Gap Year programs. Come see the world, and serve the world!
These are volunteer opportunities. Applications are accepted on a rolling basis. Both students & seasoned professionals needed.
Some areas where you can help in practical ways include;
EDUCATION: Uganda secondary school
DEMOCRACY BUILDING: Kenya – Constitutional Law, Peace, Human Rights & Democracy Building This organization was born after the election violence in 2007.
HUMAN RIGHTS & LAW: Legal Literacy in Cameroon
WOMEN: Cameroon, Women & Literacy
HEALTH: Ghana & Cameroon
AGRICULTURE
YOUTH
Others
See more information & apply here
Two Research Grants: Individual Research & Book Manuscript Completion
Individual Research Grants The African Peacebuilding Network (APN) of the Social Science Research Council (SSRC) invites research grant applications from African researchers, policy analysts, and practitioners working on conflict and peacebuilding issues at universities and research institutions; or regional, governmental, and nongovernmental agencies or organizations in Africa (up to $15,000). More information about this grant can be found here.
Book Manuscript Completion Grants The African Peacebuilding Network (APN) of the Social Science Research Council (SSRC) invites letters of interest from Alumni and current grantees to transform their APN projects or related peacebuilding research into publishable book manuscripts (up to $10,000). More information about this grant can be found here.
The deadline for applications is January 5, 2019. If you have any questions, please contact APN staff at apn@ssrc.org, or by telephone at (+1) 718-517-3669.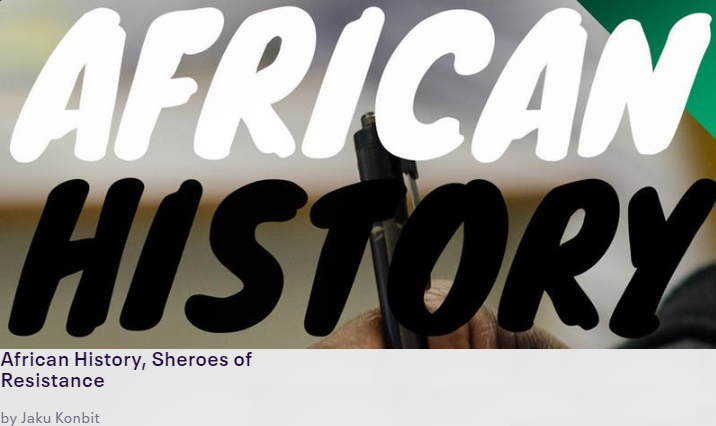 You've heard about Cleopatra, but have you heard about the formidable Kushite Queen, Amanirenas? She defended her land against Roman invasion, burying Octavian's statue where Romans were sure to walk all over it when entering the Kingdom of Kush.
There is so much to learn when it comes to African history – from the vibrant land of Kush to the thriving empire of Benin, there is so so much to learn. Come join in our African history workshop as we learn about and discuss African female heroes with African and African American Studies scholar, Dr. Clyde Ledbetter.
This event is sponsored by Jaku Konbit, in celebration of the International Decade for People of African Descent (2015-2024).
When: Saturday October 27, 2018 | 11:00 am – 12:00noon
Where: 55 Mann Avenue, Ottawa, ON K1N 6Y7
Registration is Free! Register here
Theme: "From the Phenomenological Deconstruction of Western Modernity to the Philosophical Deconstruction of "Postcolony" in Africa"
The general public is cordially invited to the second conference of our twelfth scientific year of CERCLECAD 2018/2019. The erudite and emancipatory strategies of CERCLECAD as a winning alternative will be given and moderated by Professor Benoît AWAZI MBAMBI KUNGUA, President of CERCLECAD.
When: Saturday October 27, 2018 | 3:00 pm
Where: Senate Chamber, Room 083 (basement of Tabaret Hall), University of Ottawa, 75 Laurier Avenue East.
All correspondences should be sent to: benkung01@yahoo.fr   & nabiawazi@gmail.com