5th Annual IAS Undergraduate Conference Globalization, Media and the African City
The Institute of African Studies (IAS) at Carleton University's 5th annual undergraduate research conference titled "Globalization, Media and the African City" provides students a fascinating interdisciplinary and creative lens to explore the intersections of everyday life, urbanism and the future of Africa in the context of globalization. We must not limit our understanding of the city to the physical but extend it to the imaginaries propelled by culture and urban design. The media, globalization, popular culture, and industrialization are continuously influencing the urban space, and this conference seeks to examine the intrinsic and synergic relations between Globalization, Media and the African City.
Date: Saturday, October 5, 2019 | 8:30 am – 5:00 pm
Venue: Humanities Lecture Hall (303 Paterson Hall), Carleton University, Ottawa, ON
See more information here.

Research Talks Series
​Emancipation and the Politics of Identity
Dr. Firoze Manji, Institute of African Studies consider the politics of identity in relation to the concept of "African". I trace the origin of the term used by Europe as a shorthand for the non-human or lesser-being to its emergence as an identity intimately linked to a struggle for human emancipation. I will discuss the consequences of delinking that identity from emancipatory struggles during the post-independence and neoliberal era which have resulted in the descent into ethnicism.
Date: October 18, 2019 | 3:00 pm – 5:00 pm
Venue: 1811 Dunton Tower, Carleton University
This event is part of the Research Talk Series of the Department of English Language & Literature

Informing Migration Policy: International Experience and Evidence Conference​
The Informing Migration Policy: International Experience and Evidence Conference will bring together experts at Carleton University and other universities in Canada along with experts in government and the NGO community to look at issues related to the politics and policy of migration. We have a diverse interdisciplinary and multidisciplinary program of research on the factors that affect the political discourse related to international migration and support and/or hinder the way individuals navigate different international migration pathways.
The list of topics identified to be of particular interest are:
Canadian Immigration and Refugee Policy and Politics
Development and Implementation of Global Refugee Policy
Selection, Recruitment and Retention of Economic Immigrants
Immigrant Economic Outcomes
Immigrant Health Data: Outcomes, Services and Mobility
Immigrant Settlement: Education and Technology
Our goal is to share insights and stimulate research partnerships that will ultimately lead to transformative changes in international migration policies and programs and to more positive and constructive political debates related to immigration and border issues.
Date: Thursday, October 3rd, 2019 — Friday, October 4th, 2019
Time: 8:30am – 5:00pm
Location: Richcraft Hall, Second floor conference rooms, Carleton University
View conference program here.
Climate Change Injustice: Technology, Innovation and the Politics of Climate Change
Dr. Olanrewaju Fagbohun
The Centre for Law, Technology and Society, in collaboration with the Institute of the Environment, is delighted to present the 2019 OpenAir Annual Lecture
Professor Fagbohun's presentation will address the influence that politics has had on the development of international climate change laws and policies and the challenges that it might create for developing countries. He will discuss the underlying dynamics and tensions that continue to shape deliberations on climate change and will suggest strategies that African countries may adopt to counteract these challenges.​ Dr. Olanrewaju Fagbohun is a Full Professor and the Vice-Chancellor of the Lagos State University.
A complementary lunch will be provided. Both vegetarian and non-vegetarian options will be available. While the event poster is in both French and English, please note that this event will only be offered in English.
Date: Wednesday, October 2nd, 2019
Time: 11:30 – 12:50
Location: Fauteux Hall (57 Louis-Pasteur), University of Ottawa
Room: 351
See more information here.
Panel Discussion | The several crises in Cameroon, their root causes and possible way out, with Chris Roberts of the University of Calgary and Maxime Jong, a political analyst from Douala​
Time: Thursday October 3, 2019  |  5:30PM to 7:30PM
Place: La Relance, 270, boul des Allumettières, Gatineau (entry by the rear door from the parking lot).  Free parking is available with La Relance's parking and on nearby streets.
**This event will be in both English and French**
Chris Roberts teaches political science at the University of Calgary, specializing in African politics, security, and development, as well as Canadian foreign policy in Africa. He is also president of African Access Consulting (est. 1995). He was Western Canada-Vice President (2004-2009) of the Canadian Council on Africa. See his article on Cameroon here:
Maxime Jong has degrees in management, strategy, international affairs from UQAM and Université de Montréal. He lives in Douala, where he supports efforts for inclusive dialogue to address the multifaceted crises affecting Cameroon. He was a strategic adviser to candidate Akere Muna during the 2018 presidential election.
Vacancy | Assistant Professor of History
Faculty – Full time
The Department of History at the UW-Madison invites applications for a tenure-track Assistant Professor position in U.S. International and Diplomatic History. The successful candidate will hold the William Appleman Williams & David G. and Marion S. Meissner Chair in U.S. International and Diplomatic History.
We welcome candidates of all specializations and time periods, including applicants whose expertise focuses on U.S. foreign relations, diplomacy, and/or how the U.S. as a member of the global community responds to matters such as human rights, immigration, empire, environmental concerns, and cultural productions. Candidates must have a Ph.D. by the start of the appointment. The appointment is expected to begin in August 17, 2020.
Ph.D. in History or related field by start of appointment.
Applications received until position is filled.
See more information and how to apply here.
Call for Fellowship Applications | Pilot African Postgraduate Academy (PAPA)
"Point Sud, Muscler le savoir local", a Bamako based Institute for Advanced Studies, invites applications for a three year fellowship from early career scholars based at African universities. Successful applicants will be part of a cohort of 15 early career scholars in the Pilot African Postgraduate Academy (PAPA). PAPA is a Three-year post-doctoral training programme, held mostly in French, and generously funded by the Gerda Henkel Foundation (Germany) under the supervision of Prof. Mamadou Diawara (University of Frankfurt, Germany) and Prof. Elísio Macamo (University of Basel, Switzerland). The courses in Bamako will take place every year in the first two weeks of March and September, starting in March 2020 and ending in September 2022.
Fellows will receive a monthly grant of 300 € on top of travel funds allowing them to attend the courses in Bamako. Meals and hotel expenses are covered in Bamako. A lump sum fund of 10.000 € is foreseen to organize workshops at the home institution, invite researchers and collaboration partners, to attend conferences (in their home countries and abroad), conduct research and work on their publications.
Application Deadline is October 31, 2019. 
Contact:  Dr. Stefan Schmid, ZIAF, s.schmid@em.uni-frankfurt.de
See more information and how to apply here.
Call for Applications | Fully Funded Masters, Doctoral, and Post-Doctoral Fellowships on Urban Mobility, Temporality, and Africa's Future Politics
The African Centre for Migration & Society at Wits University is seeking applications for a MA, doctoral students, and post-doctoral fellows as part of a multi-year, multi-city project on mobility and the city. Employing approaches from across the social sciences, humanities, and built environment the project will conduct original research and interventions in Johannesburg, Accra, and Nairobi. Through continental and translocal collaborations with colleagues in academia and the arts, it will make important conceptual, theoretical and methodological contributions to theories on multiple mobilities and urbanisation across sub-Saharan Africa. Project leaders include Mpho Matsipa, Dudu Ndlovu, and Loren B Landau.
Students and fellows participating in this programme should have a strong methodological and/or conceptual background in fields related, but not limited to: mobility/migration; mapping; urban subjectivities; critical cartographies; local politics; informal economies; memory; and environmental design.
Selections will be completed by the end of 2019 with successful candidates expected to enrol or begin their programme during 2019. Students already enrolled are also eligible.  Members of historically disadvantaged groups are particularly encouraged to apply.
Application Deadline is November 1, 2019. 
Contact:  temporality@migration.org.za
See more information and how to apply here.

Call for Applications | Schlumberger Foundation Faculty for the Future
The Schlumberger Foundation is accepting new applications for the 2020–2021 Faculty for the Future Fellowships from September 5th to November 7th, 2019.
The Faculty for the Future program, launched in 2004, awards fellowships to women from developing and emerging economies to pursue PhD or Post-doctoral research in science, technology, engineering and mathematics (STEM) at leading universities worldwide. The program's long-term goal is to generate conditions that result in more women pursuing scientific careers by lowering the barriers women face when entering STEM disciplines, thus reducing the gender gap. Faculty for the Future Fellows are expected to return to their home countries after completion of their studies to contribute to economic, social and technological advancement by strengthening the STEM teaching and research faculties of their home institutions. They can also make contributions in the public sector where their newly acquired technical and scientific skills can help provide evidence-based support for STEM policy making. In so doing, they become powerful role models and help to inspire other girls and women to pursue scientific careers.
Faculty for the Future grants are based on actual costs for eligible expenses up to a maximum of USD50,000 per year for a PhD and maximum of USD 40,000 per year for a Post-doc and may be renewed through to completion of studies. Renewal grants are subject to performance, self-evaluation, recommendations from supervisors and strong evidence of re-integration plans in the home country.
Application closes November 7, 2019.
See more information and how to apply here.
Save the Date for CAAS 2020 Conference
June 3-5, 2020
Western University in London Ontario, Canada
The official call for papers and panels will be circulated shortly. This year's conference will relate to the Congress theme of "Bridging Divides".
In the meantime, you can visit our website on https://caas-acea.org/
Date: October 5, 2019 | 8:30 am – 5:00 pm
Venue: 303 Paterson Hall, Carleton University, 1125 Colonel By Drive Ottawa, ON K1S 5B6
See more information here.

Fundraiser to support the University of Khartoum
First established in 1902 as Gordon Memorial College until it became an independent University in 1956. UofK is the largest and   oldest university in Sudan. A Sudanese Diaspora Group and the "Friends of the University of Khartoum" have planned a fundraising event on September 28th at the Kanata Recreation Services Complex,
to give you an overview of the initiative and also give you a taste of the Pentatonic Music of Sudan (and indeed of most of Africa, India, China, Japan and other Asian countries). You will also see the colourful wrapping dresses (Tobe) or African Sari worn by graceful Sudanese women. Mali has similar Tobes.
We would love to have you with us. Tickets can be paid for and collected at the gate. You can also make e-transfer through friendsofuofk@gmail.com. Please send an e-mail before/after your e-transfer to confirm receipt for tickets paid for this way. For more information, kindly visit "Friends of the University of Khartoum" website https://www.friendsofuofk.com
Should you have any questions, please contact Tag Elkhazin by phone 613-834-7817 or by email elkhazin@subsaharacentre.com.
Book Launch | The Youth of God​
Join Hassan Ghedi Santur and Ottawa book Award finalist Kagiso Lesego Molope for a fun evening of books and insightful conversation!
Date: Thursday Oct. 10, 2019 Location:  Arts Court, 2 Clarence Daly Ave. #240 Ottawa, ON.
CARIBBEAN CULTURE DAY!
A one-day Caribbean Culture Day celebrating Caribbean Culture through creativity, the arts, and well- being. Family friendly entertainment, showcasing various Caribbean islands through arts and crafts, demonstrations, storytelling, poetry, music and dance, Caribbean Food on sale, Swag Bags (while supplies last)
Date: Saturday Sept. 28, 2019 Time: Noon – 8:00 PM EDT
Location:  Ottawa Masonic Centre 2140 Walkley Rd.
See more information here.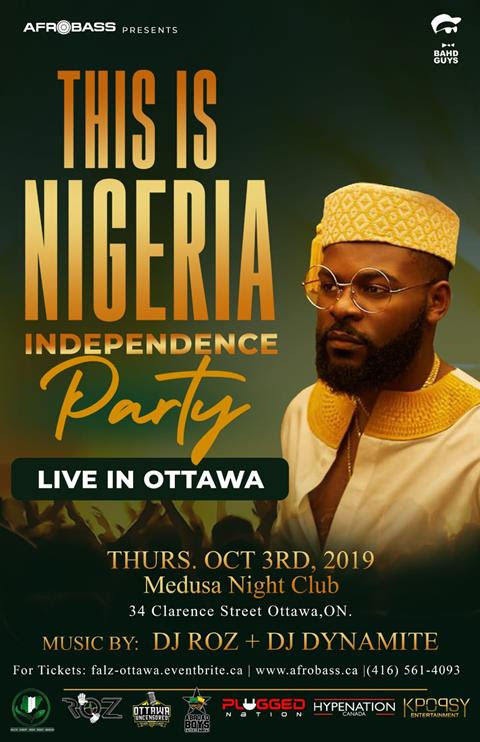 FALZ LIVE in Ottawa | NIGERIAN INDEPENDENCE​
Afrobass & Carleton University Nigerian Student Association (CUNSA) presents Independence Day Celebration with Folarin Falana, popularly known as Falz. Known for his unique style of comical and contemporary hip-hop music, Falz is a renowned Entertainer and BET International has recently nominated him as best international flow.
Date: Thursday Oct. 3, 2019 Location:  34 Clarence Street Ottawa, ON.
See more information and tickets here.