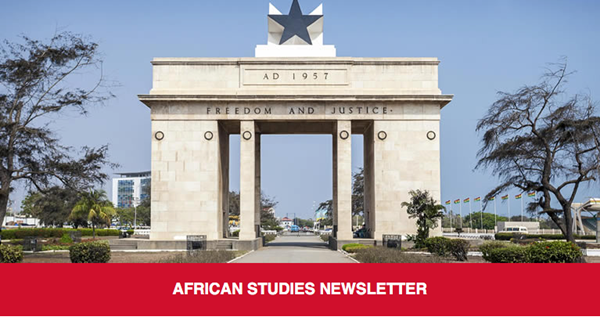 "Somali Studies in Canada: Resilience and Resistance"
with
Professor Nimo Bokore
School of Social Work, Carleton University
Date: Wednesday, January 23, 2019 | 1:00pm to 2:30pm
Location: Discovery Centre, MacOdrum Library, Carleton University.
See more details here
Book Launch! "Such a Lonely, Lovely Road" by Kagiso Lesego Molope
Date: January 24, 2019 | 1:00pm to 3:00pm
Location: 433 Paterson Hall (History Lounge), Carleton University
See more details here

Ducking the coup, notes on Zimbabwe's 2nd Republic​by David Moore of the University of Johannesburg
The Africa Study Group is happy to announce its next event of the 2018-19 season, a presentation by David Moore of the University of Johannesburg: "Ducking the coup, notes on Zimbabwe's 2nd Republic"
Regarding a coup, it has been said that "if it walks (etc.) like a duck it is a duck". But there is a wide variety of these birds, and some of them grow into swans. Thus: (1) this presentation is a preliminary effort to characterize the nature of the Zimbabwean coup, and why it matters, or doesn't; (2), closely related, are the coup-makers's ducking efforts – the reality that it was a coup has been skirted assiduously since within a few days of its occurrence just over a year ago, with interesting effects that again may or may not be important; and (3), a good dose of empirical discussion of the twists and turns of such events, hopefully interesting intrinsically.
Bio: David Mooore received a Phd in Politics from York in 1990, on the contradictions within the Zimbabwean nationalist movements during the 'liberation war'. As the contradictions continue, so does the research. Currently Professor of Development Studies at the University of Johannesburg. Working on a book for Zed Press/African Arguments on the coup, its causes, and its consequences. See recent publications:
'A Very Zimbabwean Coup: November 13-24 2017 – Context, Event, Prospects', Transformation, 97 (August 2018), 1-29.
'Reading Zimbabwe Internationally: Little Errors, Larger Truths – Review Article', South African Journal of International Affairs, 25, 2, (June 2018), 263-272.
Note explicative: le titre de la présentation provient du dicton (anglais): "si ça marche comme un canard, fait "coin coin" comme un canard, ..etc, c'est un canard! Cependant il a beaucoup de types de canards, et quelques-uns deviennent des cygnes (?)!La présentation va 1) essayer de caractériser la nature du coup au Zimbabwe et son importance, 2) expliquer comment et pourquoi on essaie de prétendre que ce n'en était pas un, et si cela est important, et 3) fournier un lot de faits empirique sur ce qui s'est passé – en espérant que les gens vont les trouver intéressants!
Bio: David Moore a reçu un PhD en sciences politiques de l'université York en 1990, avec une thèse sur les contradcitons internes des mouvements nationalistes au Zimbabwe pendant la guerre de libération. Étant donné que les contradictions se maintiennent, la recherche se poursuit! Il est actuellement professeur d'études de développement à l'université de Johannesburg. Il prépare un livre pour Zed Press. African Arguments sur le coup au Zimbabwe, ses causes et ses implications. Voir ses publications récentes – liens ci-joints.
Date: Thursday January 10, 2019 | 5:30pm -7:30pm
Location: Richmond Room, Ottawa City Hall, 110 Laurier Av West, Ottawa
Call for Papers | Exploring The Agency Of The Global South In International Studies (Practices)
Accra, Ghana
Global South (GS) actors have become increasingly influential in international politics, conspicuous in their role in international trade, international security and climate change negotiations, and a range of new 'South-South' cooperation and partnerships. Although the Global South is increasingly prominent in international relations and attracts interest from a variety of actors, on many fronts it remains entangled in the seemingly immovable structures of international inequality, high levels of poverty and underdevelopment, often fragile economies and weak political and military capacity, and recurrent instabilities.
You are invited to submit an abstract via email to; Accra2019@isanet.orgor visit https://www.isanet.org/Conferences/ISA-Accra-2019/Submissions for submission guideline.
Please note that the conference is bilingual and this means that participants can submit papers and roundtable proposals in both English and French; it also means that presentations can also be done in both languages. However, all communications and all activities involving the use of our system can only be done in English, which is the official language of the ISA.
Deadline for paper/panel submissions is 21st January 2019
See more information here
Call for Papers | Africa on the Move: Harnessing Socio-Economic and Environmental Resources for Sustainable Transformation 
University Of Ghana, Legon
April 3 – 4,  2019
5th School of Social Sciences International Conference
For centuries, Africa has been characterized by poverty, low productivity, wars and political instability. The underdevelopment of the African continent has experienced a turn since the 1990s and Africa is now heralded as the last frontier of global capitalism by businesses, international organizations, governments and academics. The voracious demand for raw materials, markets and partnerships has created favourable conditions for leveraging Africa's growth and development. The huge investments by China on infrastructure and technological transfer in Africa has created a new competitive urge for the continent. As the continent with the largest reserves of natural resources, Africa has great potential in ensuring a steady sustainable growth within current globalism if the processes of its development are well managed.
You are invited to submit an abstract via email to; sssconference@ug.edu.gh
The abstract should not be more than 250 words and should highlight objectives, methodology and findings. Conceptual and theoretical papers will also be accepted.
The submission must also contain the title of the paper, and the name, affiliation, and email address of the author who is making the submission.
Submission deadline: Monday, 7th January 2019
Notice of acceptance of papers: 31st January 2019
See more information here
Call for Papers | Medicine, Myth, and Magic
McGill University, Montreal
April 12 – 14, 2019
This year's CREOR graduate student conference will be held in collaboration with McGill's History/Islamic Studies conference "Angelical Conjunctions: Crossroads of Medicine and Religion, 1200-1800" and running concurrently with the 2019 Eastern International Regional Meeting of the American Academy of Religion conference on "Religion, Harm and Healing".
The McGill Centre for Research on Religion (CREOR) graduate student annual conference invites graduate students and emerging scholars to participate in a special edition conference rethinking the relationship between medicine and religion. We invite critical reflections on the complexities and diversity that arises at the crossroads of medicine and religion. We know that since Antiquity medical traditions in Greece, Babylon, Egypt, China and India were intrinsically intertwined with its religious practices. The observation and study of anatomical and mental ailments was not necessarily a distinct science, the lines between medicine, religion, and "magic" remained "at times"blurry. Myth and ritual were also used to connect the body to sacred spaces. Early modern, and especially post-Enlightenment, thinking sought to bring a clearer divide between medicine and religion. As science and technology progressed it provided the field of medicine with a diagnostic and prognosis system which was purely "rational" and devoid of spiritual beliefs. But the acceptance of this proposition has not been unanimous. Despite the extraordinary advances of post-Enlightenment medicine, both Western and Eastern, does the quest for scientific knowledge leave any room for religious beliefs, traditions and ethics to influence medical practice?
Submission Deadline: January 5, 2019
See more information here

Call for Papers | Somali Studies in Canada Colloquium: Identity and Belonging
Carleton University, Ottawa, Canada
October 18 – 19, 2019
Carleton University is happy to announce its second Somali Studies in Canada Colloquium, taking place on October 18 and 19, 2019. This year's theme, Identity and Belonging, will focus on the thematic priorities that emerged from the roundtable discussions at the first Somali Studies in Canada Colloquium in 2017.
This second conference is designed to play a key role in facilitating dialogue and partnerships among the Somali Studies academic community at local, regional, and national levels. We are interested in papers that address issues of identity for Somalis in Canada such as: identity conflict, historical trauma, the influence of less-studied periods of Somali history, cultural resurgence and practice, systemic barriers including access to higher education, economy and labour market integration, the promotion of wellbeing and social justice.
Interested academics, researchers, educators, and health and social work practitioners are invited to submit their work. We ask applicants to submit a 200-word abstract describing their proposed paper, their academic/professional biography (100 words) and a full paper (approximately 5000-7000 words, including references).
Application deadline: March 15, 2019.
Please send your papers, abstracts and biographies to Dr. Nimo Bokore  somalicanadianstudies2@gmail.com
See more information here
Call for Papers | Three decades of elections in Africa: what have we learned about democracy?
African Study Books
Some three decades have passed since the inception of democratic experiments in Africa, and the study of elections remains both topical and vibrant. A dominant view in the literature suggests that multiparty elections had limited transformative impact in Africa. Instead of producing alternation in power and more democratic regimes, the successive rounds of elections led to the emergence of new types of nondemocratic government (electoral authoritarian, competitive authoritarian) and to the proliferation of dominant party systems, where the former authoritarian parties still hold a considerable share of votes/seats. World indexes place the continent as the worst in terms of electoral integrity due to persisting episodes of (pre-or-post) electoral violence, vote buying and fraud. Though all this reinforces the narrative that elections in Africa are but a "shadow of democracy" (Adejumobi 2000), it is also true that multiparty elections have become common place and in some cases gave birth to exemplar democracies (Cape Verde, Ghana or Mauritius, just to mention a few cases).
This special issue, entirely devoted to the study of recent elections in Africa, intends to understand what is behind stories of failure or success. While most contributions emphasize the procedural aspects of elections, the main goal here is to look at more substantive aspects that are often neglected. More specifically, we invite contributors to focus on the following (and other related) questions:
Contributions should be sent to cadernos.cei@iscte.pt and edalinas@gmail.com with the subject "Three decades of elections in Africa: what have we learned about democracy?'" until 31 May 2019. Authors will be notified of the article acceptance until 30 June 2019.
See more information here
Call for papers | Africa: Connections and Disruptions
ECAS 2019 invited panel proposals addressing the theme of Africa: Connections and Disruptions. 250 such panels have been selected representing all disciplines and methodological approaches of the social sciences and humanities.
Before you propose a paper or roundtable contribution, please read the theme of the congress, the information below, and then browse the list of panels.
The accepted panels of ECAS 2019 have been divided into thematic streams: Arts and Culture, Economy and Development, Environment and Geography , Health, History, Language and Literature, Law, Politics & International Relations, Religion, Social Anthropology, Sociology. When browsing through the list of panels, you can alternate between the All panels view that shows all the panels in one list, regardless of the stream and the All streams view that shows the list of streams.
CFP rules: only one paper/contribution per person!
Please note that an individual must not make more than one solo-authored paper proposal or roundtable contribution (although they may also convene one panel/roundtable; or be a discussant or chair in one panel).
All paper proposals must consist of:
a paper title
name/s and email address/es of author/s
a short abstract of fewer than 300 characters
a long abstract of fewer than 250 words
The main conference language being English, this information should be submitted in either English or French.
Application closes at 11pm (CET) on 21st January.
See website for more information.