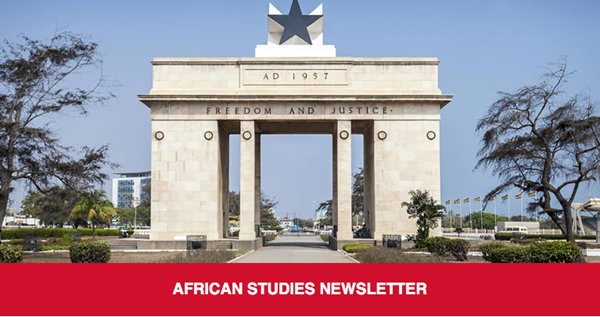 Upcoming Events
Call for Papers | Globalization, Media and the African City
Calling all undergraduate students with a passion for African Studies! The Institute of African Studies (IAS) at Carleton University is hosting its 5th annual undergraduate research conference on Saturday, October 5th, 2019 at Carleton University, Ottawa, Canada.

This years' theme; Globalization, Media and the African City, provides students a fascinating interdisciplinary and creative lens to explore the intersections of everyday life, urbanism and the future of Africa the context of globalization. We must not limit our understanding of the city to the physical but extend it to the imaginaries propelled by culture and urban design. The media, globalization, popular culture, and industrialization are continuously influencing the urban space, and this conference seeks to examine the intrinsic and synergic relations between Globalization, Media and the African City.
The organizing committee of the IAS undergraduate conference welcomes well-researched papers addressing any of the above-listed subthemes relating to the African City. Local and international
undergraduate students interested in participating in the conference are encouraged to submit an abstract by July 6th, 2019. The abstract should be between 250 and 400-word for a final paper suitable for a 20-minute presentation.
For more information, please email the organizing committee at communications.iasconference@gmail.com or follow us on Twitter @IASSACarleton or Facebook at the Institute of African Studies Student Association -IASSA for continuous updates.
See more information here

Trans-Atlantic Migration: African Diasporas in Solidarity
Joint Conference organized by the Tubman Institute (York University) and the Centre for Migration Studies (University of Ghana) Legon, Accra, August, 6-9, 2019
In commemorating Ghana's declaration of 2019 as "The Year of Return," the Harriet Tubman Institute for Research on Africa and its Diaspora at York University in Toronto and the Center for Migration Studies at the University of Ghana, Legon, Accra, invite you to participate in a joint Conference on Trans-Atlantic Migration: African Diasporas in Solidarity. With emphasis on a transnational perspective that bridges migration and
development, the Conference seeks to examine the historical and contemporary connectivity and solidarity between African groups and individuals in the Diaspora and their homelands. In particular, we invite papers that deal with the social, political, cultural and economic transnational connections between African Diasporas and their homelands.
Abstracts can be sent to: mianda@yorku.ca ; jteye@ug.edu.gh; teyejoseph@yahoo.co.uk; and jmensah@yorku.ca
Application deadline is April 26, 2019.
See more information here
* Reflections on being an "Africanist" scholar in the 21st Century: A Tribute to Pius Adesanmi
Nokoko is calling for submissions of original manuscripts that critically reflect on what it means or what it should mean to be an "Africanist" scholar in the twenty-first century. This special issue of Nokoko is dedicated to our friend, colleague, editorial board member, and Director of Carleton University's Institute of African Studies, Professor Pius Adesanmi, who tragically died in the Ethiopian Airlines crash on March 10, 2019. Given his varied academic and public intellectual dispositions and practices – his multiple interests, commitments and contributions as an academic scholar, regular columnist in Nigerian (on-line) papers, strong mentorship activities in Africa and North America, his artistic productions, an immensely busy schedule of public talks in Africa, Europe and North America, and his social media posts engaged with by tens of thousands of followers – we ask contributors to use Pius Adesanmi's organic intellectual activism as a catalyst for thinking about the role of an institutional builder and public intellectual and an "Africanist" scholar in this century.

Pius Adesanmi was extremely dexterous in his productions and interventions, using all forms of writing and speaking, and thus we welcome a range of genres of writing to explore one or more of these topics – be they academic, social activist, or artistic.
First, we are asking for submissions of 200 word abstracts of potential papers by May 30, 2019.
The abstracts will be peer-reviewed and individuals who submitted selected abstracts will then be contacted by June 15, 2019 to go ahead and produce their full papers.
Your final manuscripts should be between 7,000 and 9,000 words. Articles should follow Nokoko's submission guidelines. They will need to be submitted by October 31, 2019 for review.
Please submit your abstract to Nokoko@carleton.ca.
See more information here.
Call for applications: African Research Universities Alliance (ARUA) Postdoctoral fellowships on Mobility and sociality in Africa's emerging urban
The African Research Universities Alliance (ARUA) is seeking post-doctoral fellows to join a five year research programme entitled 'Mobility and Sociality in Africa's Emerging Urban.' This initiative is a scholarly response to unprecedented levels of urbanisation and mobility driven by conflict, ambition, and respatialising economies. It is intended to develop African-based contributions to theories of human mobility and transforming modes of social engagement, authority, representation and expression. This initiative brings together five African Universities dedicated to cultivating a generation of African scholars who can reshape global social theory and scholarly conversations on mobility, cities and social change.

Post-doctoral fellowship proposals are invited for recent social science and humanities graduates dedicated to answering one or more questions: See research areas here
Applications should include:
A cover letter summarising past research, qualifications, and the location for the post-doctoral fellow. Applicants should also indicate if they would consider being hosted by an alternative institution;
A complete academic CV;
A short proposal (1500 word maximum) outlining a yearlong research and publishing programme;
Three professional reference letters speaking to abilities to publish, work collaboratively, and development a future research agenda;
A writing sample of not more than 15,000 words (e.g., book or dissertation chapter; article).
Application deadline is 1 May 2019. Selections will be completed by 31 July 2019 with successful candidates expected to be in their positions no later than February 2020.

Members of historically disadvantaged groups are particularly encouraged to apply.

All queries and application materials must be emailed to kabiri.bule@wits.ac.za
See more information here
Call for Participants: Doctoral Students researching diversity in African Cities
The Academy for African Urban Diversity is a joint project of the African Center for Migration and Society at the University of Witwatersrand, the department of Geography at University of Durham and the Department of Socio-Cultural Diversity at the Max Planck Institute for the Study of Religious and Ethnic Diversity
AAUD will bring together a cohort of 8-10 post-fieldwork doctoral students exploring diversity in African cities to refine their research focus, promote professional development, and build trans-national scholarly communities. Half of each cohort will be reserved for scholars enrolled in doctoral programs at African Universities, while the other half is open to scholars of urban Africa based elsewhere. Each cohort will meet in two intensive workshops. The first week long workshop, to be held at the University of Witwatersrand from November 4-8, 2019, combines advanced seminars on theories of the urban, migration, and diversity by leaders in the field; peer workshopping of dissertation plans; professional development; and international networking. In the second workshop, held in Europe, one year on, fellows convene to present their work and organize a seminar for the incoming cohort of fellows to kick off the next round..
The AAUD supports a new generation of scholars in the humanistic social sciences pursing research that advances knowledge about mobility and urban diversity in Africa. We welcome applicants from all social sciences disciplines, including but not limited to anthropology, contemporary history, sociology, political science, economics, human geography, urban studies, and planning. We also encourage applicants from other disciplines who engage expressly with urban theory. Applicants should have completed data collection by the time of the academy, and be in the initial phase of the write-up period. While we push for theoretical engagement, projects should be empirically grounded..
Applications should be written in clear, intelligible prose, for a selection committee that is multidisciplinary. Dissertation summaries should display a thorough knowledge of the major concepts and theories in applicants' discipline and related fields and should include a bibliography relevant to the research. In their letter of interest, applicants should specify why they wish to attend the academy, and how they expect it to further their progress in completing their dissertations.

Applications will be accepted until 30 April, 2019. Late applications will not be reviewed. Please upload all supporting documents as a single PDF file.
To apply, please click here

Call for Applications: "Africa Multiple" Cluster of Excellence 2019-2020 Fellowships
The "Africa Multiple" Cluster of Excellence at the University of Bayreuth (Germany) invites scholars working in the field of African studies to apply for fellowships in the Bayreuth Academy of Advanced African Studies (BA). Funded through the Excellence Strategy of Germany's federal and state governments since January 1, 2019, the aim of the cluster is to reconfigure African studies at the conceptual and the structural levels. The cluster is conceived as a transformative space for the systematic study of African and African diasporic ways of life, enabling new forms of inter- and transdisciplinary cooperation. The BA was founded in 2012 as a space for engaged scholarship and debate in the study of Africa and is now part of the "Africa Multiple" cluster.
Please send all documents by e-mail as a single pdf file to the cluster's Vice Dean of Research, Prof. Dr. Erdmute Alber at the following address: EXC2052@uni-bayreuth.de.
The application deadline is April 30, 2019. Reference letters should go to the same email address; they are due three days later and will not be accepted beyond May 3, 2019.
For further information and questions, please contact the coordinator of the BA, Robert Debusmann: bayreuth.academy@uni-bayreuth.de.
See more information here.
Call for Papers | Communists and Decolonisation in Africa
A unique initiative by the Gramsci Foundation calls for researchers to present research on the history and politics of communist parties from all over the world and their relationship with African movements.
Recent years have seen a proliferation of studies on the relations between the communist movement and anti-colonial liberation movements, on the encounters between the 'socialist camp' and the Third World, and more generally on communism's influence on decolonisation and the formation of the postcolonial world. These studies have adopted global- and international-history perspectives which are ever less confined to the classic themes of debates within the Comintern or Soviet strategies during the Cold War. In particular, the use of a transnational approach directed at reconstructing the connections and influences that developed in parallel to the more visible and traditional relations of communist internationalism appears to be becoming ever more relevant.
This conference seeks to make a fresh contribution to these new historiographical developments, proposing an examination of the communists who were active within the imperial and post-imperial spaces.
Abstract submissions due by April 30. If your paper is accepted your travel and accommodation costs to Rome will be covered by the conference organisers.
For more information see the official call for papers here.
The Critical Thinker-Doer: Higher Education and Knowledge Production for the Common Good

5th International Conference of the Dakar Institute of African Studies July 5-6, 2019 Dakar, Senegal
The Fifth International Symposium of the Dakar Institute will focus on the different ways in which the concept of the critical thinker-doer could best be materialized. Participants from various geographical and professional origins will try and think about how research could help deepen our theoretical knowledge in various fields of inquiry, but at the same time generate the skills and know-how that decision-makers need as well as communities, people in business, and non-profit organizations. How could the « critical thinker-doer » concept impact Africa's destiny?
Participants will begin evaluating research in and on Africa, and the conditions under which it happens. Does research create useful knowledge for society? How could we measure this impact in light of the huge financial resources and energy invested in research? What should be the relationships between fundamental research, applied research, and action research ? Would it be contradictory to the mission of universities and to the promotion of critical thinking to provide our students with skills necessary to solve real world problems? Where does knowledge on/by Africans (Hountondji) fit in research and teaching in our universities? How best could the scholar work with and for communities when their representation of the scholar is not conducive to collaboration?
We invite papers, panels, and performances (in English or French) on, but not limited to, the following sub-themes:
1) Current Trends and Realities of Higher Education in Africa
2) The Challenges of Knowledge Creation on/in Africa
3) Relationship Between Fundamental and Applied Research
Abstract deadline: May 1st, 2019. Please send your title, abstract, and a short bio with the subject "Conference 2019" to: conference@thedakarinstitute.com
Theatre of the Oppressed
Carleton University's Sociology and Anthropology Department, in collaboration with the Glebe Collegiate Institute, presents Theatre of the Oppressed: The stereotypical notions of gender, race, and sexuality among young Canadians. This event encourages undergraduate students, high school students, and the broader Ottawa community to critically think about the relation of gender, race, social class, age, ability, and sexuality among young Canadians. Recognizing how gender relations in mainstream society is generally perceived, it can be difficult for young people to express themselves while encountering misconceptions about their personhood.
As a way to express student learning, and build confidence in young people, both Carleton undergraduate, and Glebe high school students have put together two plays, while keeping in line with the "The Theatre of the Oppressed" model, by Augusto Boal. These two sets of plays will highlight discrimination and social oppression young people face in a Canadian social climate.
Theatrical themes
"The Misguided Councilor"
The subtle and overt racial discrimination that racialized Canadian youth encounter within high schools.

"The Rumour Mill"
Young people's struggle to express their sexuality in a heteronormative society
Characters in the play are not based upon and do not represent, any real person(s). These characters were created to provoke uncomfortable experiences and challenge guests thinking around these social issues. This play does not depict any student or faculty at Glebe Collegiate Institute or Carleton University.
Theatre of the Oppressed is a dramatic game in which a problem, or symptom of oppression, is shown in an unsolved form. The dramatic action revolves around a selected issue of social inequality; it involves visible oppressors and protagonists who are oppressed. The "Theatre of the Oppressed" performance will be an interactive piece that allows the audience to get involved, as an attempt to STOP THE OPPRESSION! At certain points during the plays, audience members will be encouraged, positively, to replace one of the existing characters within the plays in the hopes of creating a learning experience, and a positive outcome. The only characters who are not allowed to be replaced are the oppressed character and the character who is identified as the oppressor.
The event will be held on Friday, May 3rd at Dominion Chalmers Theatre (355 Cooper St, Ottawa, Ontario). Doors will open at 5:00, showtime begins at 5:30 pm and the performance will conclude at 8 pm.
Following the last performance (8 pm to 8:30 pm), there will be a panel discussion. Guests will have the opportunity to ask the performers and theatre directors question about the development of the play. This serves to build confidence in our young people!
This event is a FREE event for students and community members!
Trigger Warning: This play contains coarse language and mature subject matter. It may not be suitable for those 13 years or younger. Please be advised that some of the content may potentially be offensive, challenging and/or upsetting.
Light refreshments will be provided, and there will be opportunities to network.
See more information here
A Frances-Anne Solomon Film HERO – Inspired By The Extraordinary Life & Times Of Mr. Ulric Cross"
Official Ottawa Premiere Co-presented with BlackOttawa411
About the film:
Shot in Trinidad, Ghana, the UK and Canada, HERO is the story of Ulric Cross, who in 1941, left his small island home to seek his fortune, and became the RAF's most decorated West Indian. His life took a different course when he followed the call of history and joined the Pan-African movement sweeping the world in the 50's and 60's.
Date: Thursday, April 25, 2019 | 7:00 p.m. – 10:00 p.m.
Location: Imagine Cinemas Ottawa, 1200 St Laurent Blvd, Ottawa, ON
See more information here
Memories of Mogadishu
On behalf of the Memories of Mogadishu initiative, we are very pleased to present to you the Memories of Mogadishu Conference on May 4th2019. In partnership with the Ottawa Art Gallery, the United Nations High Commissioner for Refugees (UNHCR), MCIS Language Solutions, Carleton University, TakingITGlobal and Concordia University, this conference will explore the use of oral history and digital archives in preserving cultural heritage and collective memory in post-conflict societies.
The Memories of Mogadishu initative examines the use of memory in the reconstruction of a once cosmopolitan city by the global Somali diaspora. Through the use of oral history in combination of archival footage and personal interviews the goal of project is to document the collective memory of the pre-civil war city.
Date: Saturday May 4, 2019 | 9:30 AM – 5:00 PM EDT
Location: Ottawa Art Gallery 50 Mackenzie King Bridge Ottawa, Ontario K1N 0C5
See more information here
2019 Welcoming Ottawa Ambassadors Awards/ Prix Des Ambassadeurs Accueillants D'ottawa 2019​
The Ottawa Local Immigration Partnership invites you to nominate an individual who positively impacted your journey in making Ottawa your new home, to receive the 2019 Welcoming Ottawa Ambassador Awards.

The Welcoming Ottawa Ambassadors Award, given by the Mayor of Ottawa every year, celebrates Ottawa residents who embody Ottawa's spirit and commitment to being a welcoming city to newcomers. Your nomination will help us to recognize the important role that welcoming individuals play in the integration of newcomers.

Here is how it works:

Tell us your story, using our on-line nomination form. Think back to when you first arrived in Ottawa as a newcomer to Canada, whether it was 20 years or 20 days ago. Was there someone who did something supportive – big or small – that made you feel at home in Ottawa?

Maybe a colleague who explained the ins and outs of the Canadian workplace, a teacher who inspired you to succeed, a neighbour who was supportive to you, or a new friend who helped you make useful connections. Tell us how this person helped you, how they went the extra mile to support your adjustment to a new life in Ottawa.

To be eligible, the nominator must be an immigrant or a refugee, while the person being nominated (nominee) can be anybody. There is also no restriction on how long you have been in Ottawa.

Deadline for nominations is April 26, 2019 at 5:00 p.m. / Date limite pour les nominations : 26 avril 2019, 17 heures.
See more information and nomination here


Where: Studio X Ottawa 250 City Center, Unit – 122
When: Every Thursday || Spring & Summer 2019 Session
Time: 7pm – 8pm Beginner & Intermediate Levels
Duration: 12 Weeks
Fee: 140$ * Early Registration @ 120$ Available until April 20th*

Register here >> https://forms.gle/QRj4K1SnGvoYNnbD6

*** Limited spots ***